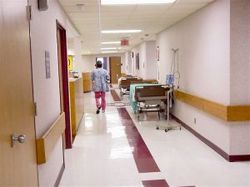 As first reported in Consumer Reports on June 7, 2011, many teaching hospitals receive low ratings at preventing central-line catheters. Chicago's Rush University Medical Center and Mount Sinai Hospital were among the teaching hospitals that received the second lowest ratings at preventing these infections. As a Chicago medical malpractice lawyer, I am troubled to see any Chicago area hospital listed. That Rush Medical Center is listed as having the second lowest rating at preventing central line infections is particularly disappointing given the reputation it has in Illinois.
A central line catheter is, essentially, a tube placed into a large vein in a patient's neck, chest, or groin. The purpose of such a catheter is to deliver fluids, medication, and/or nutrition. Indications for a central line catheter include monitoring of central venous pressure in acutely ill patients, long-term Parenteral nutrition, long-term pain medication, and Chemotherapy. Unfortunately, when central-line catheter infection occurs, the consequences can be deadly.
In its study, Consumer Reports evaluated 1119 hospitals, which is about one-sixth of the total number of US hospitals. Surprisingly, teaching hospitals--widely considered to the best type of hospitals in the country--had central-line catheter infections rate 33% higher than the average for all hospitals. In addition to the Chicago hospitals listed, only one other Illinois teaching hospital, Springfield's St. John's Hospital in Springfield, was identified among the second lowest teaching hospitals at preventing blood stream infections. Putting a "second lowest rating" into perspective, only three teaching hospitals in the entire country received the lowest ratings for blood stream infections: Saint Louis University Hospital, St. Louis, Missouri; Roswell Park Cancer Institute, Buffalo, New York; and Regional Medical Center at Memphis, Memphis, Tennessee.
According to medical experts, there is some encouraging news on the topic of central-line catheter infections. These infections can be prevented provided. Through the use of a checklist, the hospital staff dramatically reduce, if not eliminate, central-line catheter infections and, by extension, patient deaths. Developed by critical-care specialist and patient-safety researcher Dr. Peter Pronovost of John Hopkins School of Medicine, hospital staff and caregivers should do the following when working with central-line catheters:
1. Wash their hands using soap and water or alcohol gel. Do so before and after examining the patient, inserting the catheter, and replacing, accessing, repairing, and dressing the catheter. Why it helps: It prevents bacteria from the caregivers's hands from entering the catheter directly or getting into the vein through the opening in the skin.
2. Disinfect the patient's skin. Use a 2 percent chlorhexidine-based preparation or other appropriate antiseptic before inserting the catheter and during dressing changes. Why it helps: It prevents bacteria from the patient's own skin from getting on the catheter and into the bloodstream.
3. Use full-barrier precautions. Maintain aseptic technique by wearing a mask, cap, sterile gown, and sterile gloves when inserting the catheter. The patient should be covered with a large sterile sheet. Why it helps: It prevents bacterial contamination from all sources when the catheter is being put in.

4. Avoid placing the catheter in the groin, if possible. A subclavian site is preferred because it's less likely to become infected than sites in the groin or elsewhere. Why it helps: The groin area is inherently difficult to keep clean.
5. Remove unnecessary catheters. Evaluate daily whether any catheters or tubes that are no longer essential can be removed. Why it helps: The risk of infection increases the longer the catheter is in place.
As demonstrated above, the checklist recommended by Dr. Provonost is not complicated. Therefore, one would assume that, surely, all hospitals utilize such a checklist--but not so. Many hospitals continue to refuse to implement these patient-safety measures despite the fact they have been proven highly effective at preventing deadly blood stream infections from catheters. As a result, many patients will die every year from these unnecessary infections. Implementing these measures will not only substantially reduce, if not eliminate, patient deaths, it will also reduce the number of medical malpractice lawsuits these hospitals would otherwise face. For these reasons, it is difficult to understand why every hospital would not implement these basic safety measures.
Sources Used:
Consumer Reports, A Checklist To Prevent Infections, April 2011.
Consumer Reports, Teaching Hospitals Not Always Best For Patient Safety, June 7, 2011.